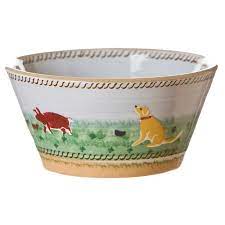 Assorted Landscape Small Angled Bowl
Our Small Angled Bowls may be petite, but their range of uses will surprise you! From serving cereal on early mornings, to holding sweet snacks or presenting a soup starter at an exclusive dinner party, these pottery bowls can do it all! After all, each piece of our handmade pottery is carefully crafted to ensure the versatile design is matched only by the luxurious finish.
The charming assorted animals are painted inside and out.  
Measurements:
14.5cm dia x 8cm h (5.7" dia x 3" h)