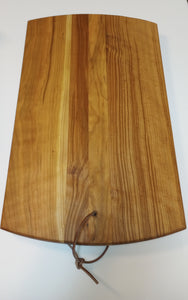 Cutting / Charcuterie Board Black Cherry
Each Bald Hill Spoon product is handcrafted, and is therefore unique.  This charcuterie board is hand crafted from black cherry in the hills of New York's Southern Tier.  It is perfect for presenting your charcuterie in a one of a kind display.  Because each item is hand crafted, sizes and appearances may vary slightly.
Feel Free to email for updated photos and dimensions.