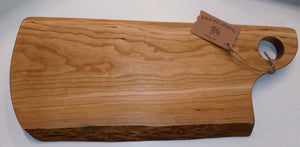 Live Edge Charcuterie Board - Black Cherry
Because each piece from Bald Hill Spoons is hand crafted, no two pieces are alike. This gorgeous live edge charcuterie board is cut from Black Cherry wood in Hornell, NY.  Because each piece is hand crafted,  the actual item may vary slightly from the picture.
Feel free to email us for updated pictures and dimensions.