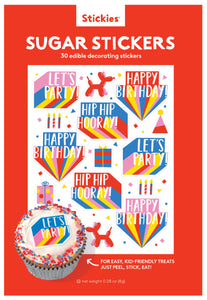 Happy Birthday Stickies® – Edible Decorating Stickers - Make Bake
Stickies® are the adorable, edible cupcake, cake, and cookie decorations. Just peel, stick and eat!
100% edible and super kid-friendly
Soft, melt-in-your-mouth vanilla-flavored sugar icing "paper" – Nut-free, dairy-free, gluten-free, kosher certified and made in the U.S.A. – Each unit includes 2 sheets/28 stickers total Super easy to use. Perfect for kids birthday parties, holiday baking and everyday baking fun. Pair with you favorite sprinkles to surprise and delight your littles! Great as party favors, gifts and in baking kits, too.