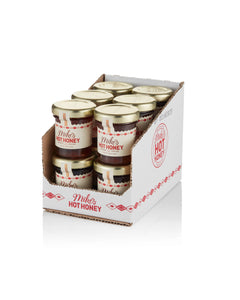 Mini Mike's Hot Honey - 1.4 oz Jar
Sold Individually
Mike's Hot Honey 1.40 oz Mini Jar,
America's #1 Brand of Hot Honey Mike's Hot Honey is a sweet-heat combo of honey infused with chili peppers that adds the perfect kick to all of your favorite foods. Perfect for cheese boards, weddings, and party favors, Mike's Hot Honey Mini Jars are a one-of-a-kind gift that your guests will love.
* Small enough to travel in your carry-on Ways To Enjoy Drizzle it on pizza, fried chicken, or BBQ. Pair with your favorite cheese and add to cocktails or tea.