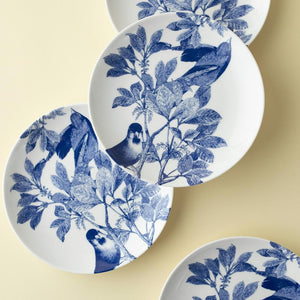 Birds Canape Dishes, Set/4 - Arbor Blue
Vintage romance meets contemporary perspective, as delicate, hand-drawn leaves in our signature blue grace creamy white porcelain in the Arbor Blue collection. These versatile little canapé plates are adorned with birds among the branches and are just the thing for serving up snacks, appetizers, or desserts with style.
Dimensions: 6.25" diameter, .75" height 
Dishwasher and Microwave Safe.