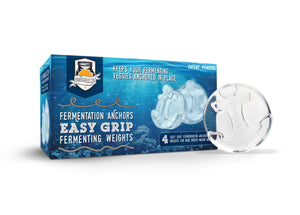 Glass Weights 4 Pack - Fermentaholics
INCLUDES 4 EASY-GRIP GLASS WEIGHTS - -PREMIUM QUALITY — Made Of The Same Food-grade Glass As A Mason Jar, Avoiding The Breeding Of Bacteria And Residual Smell. It's Convenient For Both Dishwasher Cleaning And Hand Washing. 
BEST WAY TO KEEP FERMENTS SUBMERGED— Enough Weight And Flat Bottom For Keeping Fruits & Veggies Under The Brine Without Mold And Oxidation Effectively, More Reliable And Convenient Than Diy. Making The Whole Lacto-fermentation Process Much Easier For Both Beginners And Enthusiasts.
PRACTICAL HANDLE DESIGN — Just Grasp The Handle To Easily Take The Glass Weight Out Of Mason Jar Without Using Tools.
FITS ANY WIDE MOUTH MASON JAR — With A 2.8" Diameter, It's Perfectly Suitable For All Wide Mouth Mason Jars. -PATENT PENDING