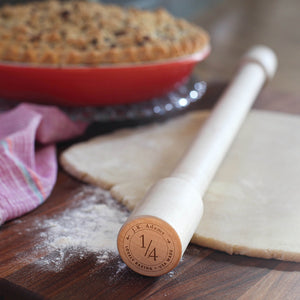 Lovely 1/4 Rolling Pin
The Lovely Rolling Pin series was developed by Bob and Gina Hartwig, the bakers and owners of Chicago's own Lovely: A Bake Shop. Slight indentations on the edges of the pin ensure that your dough is rolled to a perfect, even thickness every time. Our two professional 24" pins deliver a dough thickness of 1/8" and 1/4". On our 24" pins the roll out space is 18". Our 18" pin provides a thickness of 1/4" with a roll out space of 13". Watch the video to see the unique Lovely Rolling Pin in action.
USA Manufactured.
Sustainably Harvested North American Hardwood.
Finished in our mineral oil and beeswax.
Lifetime Guarantee.
CARE + USE
Wood is an incredible natural material that expands and contracts with moisture and humidity. Regular regimented care of this product will protect it for years to come.
Handwash with warm, soapy water after each use and dry thoroughly with a towel. Never soak or submerge in water, run in a dishwasher, or use in a microwave.
Apply JK Adams Mineral Oil and / or Beeswax Wood Conditioner once a week, with a lint free cloth, to all surfaces--including edges and ends--until the finish is established, and at any time the rolling pin feels dry.
If at any time the grain of your product becomes raised--causing a rough feeling--a light buffing in the affected area with 200 grit sandpaper will smooth the finish. Reapply JK Adams wood conditioner after this process.