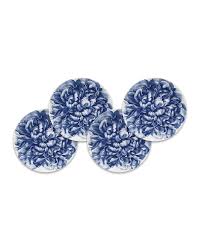 Peony Blue Canape Dishes, Set/4
Drawing on classical, historic imagery, our Peony pattern tells a distinctly fresh and sophisticated story of beauty. These small plates bursting with blooms make a big impact for any event or gathering. Our prized Peony first made its debut at the celebrated Met Gala in New York City, and it's been stunning crowds ever since.
Dimensions: 6.25" D
Dishwasher, Microwave Safe
Hand Decorated, High-Fired Porcelain
Made in Sri Lanka
Dimensions: 6.25" diameter, .75" height 
Dishwasher and Microwave Safe.