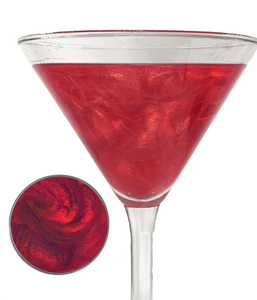 Red (1x5g) - Snowy River Cocktail Glitter
Snowy River All Natural Cocktail Glitter Snowy River cocktail glitter brings an amazing sparkle and shine to your cocktails! Colored with all natural fruit and veg, our cocktail glitters and are designed to be very lightly dusted on to the top of cocktails or stir in a smidgen to add amazing color and sparkle. Importantly,
Snowy River cocktail glitters contain no preservatives, are fully water soluble, and look amazing in vodka, tequila and other clear based cocktails.
To make your cocktails look truly amazing, rim the edge of the cocktail glass with Snowy River natural cocktail sugar and then add cocktail glitter or even a Snowy River cocktail topper as the final exquisite touch. You can create your own natural food coloring using Snowy River cocktail glitter by simply mixing Snowy River cocktail glitter with water or oil to make the desired color. Alternatively blend with simple syrup to create your own fun range of colored syrups to use in your drinks.