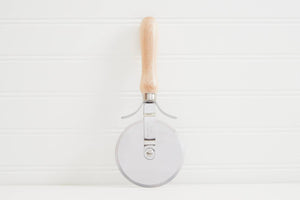 Pizza Slicer - Italian Beechwood - Alla Cucina
An essential tool for pizza lovers, this classic rotary blade is equipped with a sharp, efficient wheel that cuts through the thickest crusts and deepest toppings. It's equipped with a durable stainless-steel blade and a comfortable handle made of sustainably sourced Italian Beechwood. Handle provides a secure, comfortable grip. A stylish way to slice and serve your favorite pizza.
CARE: Hand-wash only.